SaskEnergy
122
employees
on
Do Some Good
1777 Victoria Avenue

Regina

,

Saskatchewan

S4P 4K5
Environmental Stewardship
Video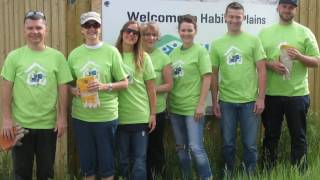 About us
We
are
Saskatchewan's
natural
gas
distribution
company,
a
provincial
Crown
corporation
with
roots
of
more
than
half
a
century
in
Saskatchewan.
SaskEnergy
delivers
the
benefits
of
safe,
convenient
and
environmentally
friendly
natural
gas
to
more
than
385,000
residential,
farm,
commercial
and
industrial
customers
throughout
Saskatchewan.
We
purchase
natural
gas
from
independent
suppliers
and
transport
it
through
our
68,500-kilometer
distribution
system
to
93%
of
Saskatchewan
communities.
We
take
pride
in
our
customer
service
and
we
work
very
hard
to
educate
customers
about
working
and
living
safely
in
proximity
to
our
facilities.
What we believe in
SaskEnergy
has
an
award-winning
community
relations
program
that
supports
hundreds
of
organizations
and
thousands
of
volunteers
across
Saskatchewan
every
year.
We
are
known
as
Saskatchewan's
"Champion
of
Volunteers".
We
offer
Share
the
Warmth
grants
to
organizations
that
provide
food,
shelter,
and
clothing
for
families
in
need;
support
environmental
education
programs
that
promote
conservation;
and
provide
sponsorship
and
fundraising
support
to
grassroots
charitable
and
non-profit
organizations.
What people are saying about us
SaskEnergy has been a long-time & generous supporter of the Saskatchewan Games Council and the Saskatchewan Games program. As our "Champion of Volunteers" SaskEnergy has shown their commitment to help make a difference in our host communities. In addition to the cash, value in kind, and office space support, SaskEnergy employees have generously donated their time and talent to help our cause. From the thousands of young athletes and volunteers that benefit from your support...THANK YOU SaskEnergy!
SaskEnergy was very prompt in responding to our request to fund our 2016 Children's Festival. They generously donated 500 dollars to our event, which allowed us to bring in a reptile expert to educate our rural community. They also provided a banner which we displayed at our festival. We greatly appreciated their interest in our cause!
The Swift Current SPCA is so grateful for the ongoing support of Sask Energy. In 2014 they purchased trees and shrubs for the SPCA shelter site and sent a great staff crew to plant 26 in total, greatly improving our property. In 2015 local staff did a "4 Legged Food Drive" with an amazing donation of food and practical items to help our pets. And in 2015 and 2016 Sask Energy also supported our fall fundraising dinner through item donations. Since we are a community-funded shelter, wonderful corporate supporters like Sask Energy are critical to our ability to continue to serve stray and homeless pets in southwest Saskatchewan. Thank you Sask Energy!
SaskEnergy has a program that matches the donations staff members raise up to a certain level. This has given incentive to their employees to get behind causes such as cystic fibrosis. Also, they have helped cover a portion of expenses for the Walk to Make Cystic Fibrosis History with their Summer Sizzle BBQ Program. With this assistance, we are able to direct more funds to research to find a cure or control for cystic fibrosis.
We were grateful to SaskEnergy for contributing to our annual Ice Fishing Derby by donating a gas BBQ for several years. It was used as a special raffle item and raised several hundred dollars each year. Special thanks to Trish Watier for being our liaison....a home town gal that we love.
SaskEnergy has generously provided funding to AVR-SK in order to acknowledge excellence in volunteer administration in Saskatchewan. The SaskEnergy Volunteer Champion Award has been developed with the funding and is awarded to one member of AVR-SK each year for their outstanding contribution to their community. SaskEnergy also sends a member of their team to present the award and give a motivational speech at our Annual General Meeting. We are thrilled with our partnership and it has made a huge difference to our non profit organization.
SaskEnergy has supported The Princess Shop through their Community BBQ Grant Program. It is so great to have a SaskEnergy employee come set up the BBQ truck, flip burgers and enjoy a great BBQ alongside volunteers, supporters, Princess Graduates, and their families. This allows us to keep the even free for our program recipients and their families!
Top causes supported by employees
Youth Development

Sports and Recreation

Health & Well-being

Education

Animal Welfare